Raise Your Threshold Program
Your path to feeling more confident and in control of migraine using a whole-body approach.
Together we'll uncover imbalances behind your all-consuming migraine and find out what works for you.
My Raise Your Threshold Program gives you the information, support, and accountability you've been needing to finally make progress and feel more confident managing migraine holistically! Watch the video above to learn more.
Take me straight to the application
Have you tried everything to control your migraine?
You're not alone.
I created Raise Your Threshold for migraineurs who are tired of quick fixes, band-aid solutions, and false promises. Migraineurs who have done the research, tried the diets, taken the meds ... and are still feeling lost.
Raise Your Threshold will walk you through everything you need to increase your migraine threshold so you can feel more resilient against triggers, be less fearful of attacks ruining your day, and allow migraine to become a much smaller part of your life.
Obsessing over food, blaming yourself for attacks, and feeling like your concerns aren't taken seriously ends now!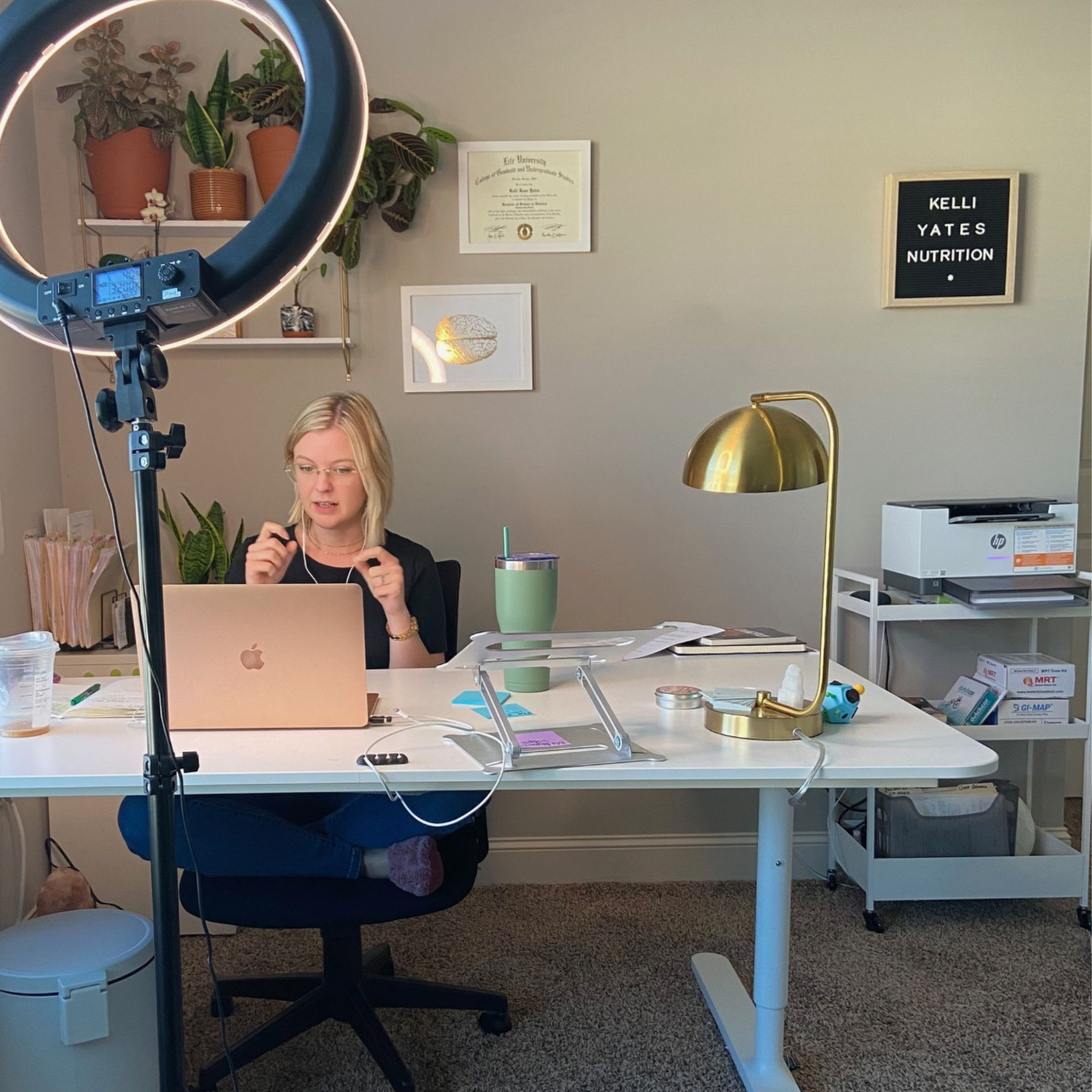 RYT Is For You If You...
Are tired of constant googling

Feel overwhelmed by all the info out there

Want your health concerns taken seriously

Have trouble making changes stick


Are tired of "one-size-fits-all" approaches

Want accountability and on-demand support

Are looking for a science-backed method to follow




Are tired of restrictive diets and being told what not to eat
Yes, I'm Ready!
What RYT Members Have To Say:
Hey there sweet friend! I'm Kelli.
As a registered dietitian nutritionist who specializes in migraine, I've helped hundreds of migraineurs go from surviving to thriving using a thoughtful, patient-centered, whole-body approach. I'm honored you're here!
What you may not know is this is all very personal for me - I'm a migraineur myself of over two decades. Over the years my life became smaller and smaller as my health issues stacked up, and I didn't feel like I was getting any real support from my doctors.
Eventually I'd had enough and I took my health into my own hands. I realized that migraine is so much more than a condition of the neck up, and when we start to look at it as a whole body condition ... everything changes. Eventually I was able to go from daily migraine episodes and relying on multiple doses of pain killers per day, to having pills left over at the end of the month!
What you can expect from me in Raise Your Threshold:
A high level of support, no matter which level you join.

Nothing is worse than waiting months to get an appointment or simple email response when you really need help. In RYT, you get answers in hours, not months.

I do not take your trust in me lightly and am here to help you each step of the way!
Tried-and-true methods backed by evidence.

Because you've done enough of your own research and experimentation to know how important it is to follow advice rooted in science (and vetted by real-life migraineurs).
Customizable support to fit YOUR needs.

One-size-fits-all just doesn't work for migraine. You'll use self-assessments and support from me to help you decide which path is right for you.
Practical advice and a baby-step approach.

Living with migraine is hard enough - there's no need to make it harder with unrealistic advice and goals. In RYT, I provide you with action items that you can actually accomplish even on hard days, plus the support to make adjustments when

things aren't clicking!
After working with me in RYT, you can expect to:
Have a sustainable, balanced way of eating for migraine (no restrictions, no dieting)
Have uncovered and addressed hidden imbalances for a more resilient migraine threshold
Finally feel good about your acute and preventive migraine management plan
The right support can make all the difference. We'll cover it all together in Raise Your Threshold.
Stories From RYT Members:
A Peek Inside Raise Your Threshold:
MODULE 1
Foundations
In foundations we go back to basics to ensure you have a solid working knowledge of threshold theory, blood sugar balance, circadian rhythm, electrolyte balance, and more.
Threshold Theory
Interoceptive Awareness
The PCPF Meal Method
Caffeine & alcohol
Sleep, movement, hydration
MODULE 2
Natural Migraine Management
Meds aren't your only option! Learn new tools (and how to use them) so you can feel more confident should a migraine attack hit.
Acute Migraine Management
Preventive Migraine Management
Building a Migraine Kit
MODULE 3

Adrenal Support
Migraine is stressful - and stress can impact the functioning of your entire body. In this module you'll uncover and address imbalances with your stress response.
Adrenals 101
Cortisol Imbalances
Healing a Faulty Stress Response
MODULE 4

Gut-Brain Balance
The gut-brain connection is one of the most ground-breaking areas of migraine research - and you get a front-row seat. In this module you'll discover possible imbalances & how to address them.
Optimizing Digestion & Nutrient Absorption
Dysbiosis & Microbiome Imbalance
Leaky Gut
Vagus Nerve Support
MODULE 5

Hormonal Harmony
Hormonal migraine can be the most stubborn of all - learn why this happens and what to do about it!
Impact of Hormones
Estrogen, Progesterone, & Testosterone Imbalances
Hormonal Birth Control
Is RYT available outside the US?
Is this program for vestibular migraine too?
Do you offer lab testing?
What are your qualifications?
Is it okay if I'm on medication?
Do you help with weight loss?
Do I have to sign up for the full 6 months?
I'm looking for meal plans, do you do that?
Will this cure my migraine or get me to migraine-free?